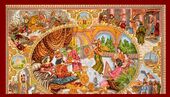 Welcome to the Sultan's Casbah, here in Cairo! Down your glass of bourbon, with shots of bourbon and bourbon chasers, and join in the discussions…just watch out for pickpockets, drunken pilots and the odd hooked Medjai!

0 Active Discussions
Most Recent Replies
Community content is available under
CC-BY-SA
unless otherwise noted.