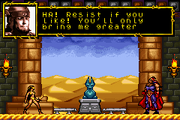 Menthu served as the main antagonist of The Scorpion King: Sword of Osiris alongside his lover and wizard, Isis.
History
Quotes
"Ha ha ha! Your husband is fine. I'm afraid it is you who is in danger! Will you come along quietly?"
"Ha! Resist if you like! You'll only bring me greater pleasure!"
"That is it! The Scorpion Stone! Its power belongs to me now!"
"What is this? That glove has managed to reveal the full power of Osiris' sword! No matter! I will rule the world with the Scorpion Stone in one hand and the Sword of Osiris in the other!"
"I have underestimated you, Akkadian. You have put an end to my mortal body, but my plan will not fail! Isis! Use the Scorpion Stone to regenerate my flesh!"
"Wait! No! YOU MUST NOT!!
Trivia
Menthu was made to bring foreshadowing to Mathayus' fate.
Community content is available under
CC-BY-SA
unless otherwise noted.